What if you were to call upon a designer dress made in Paris?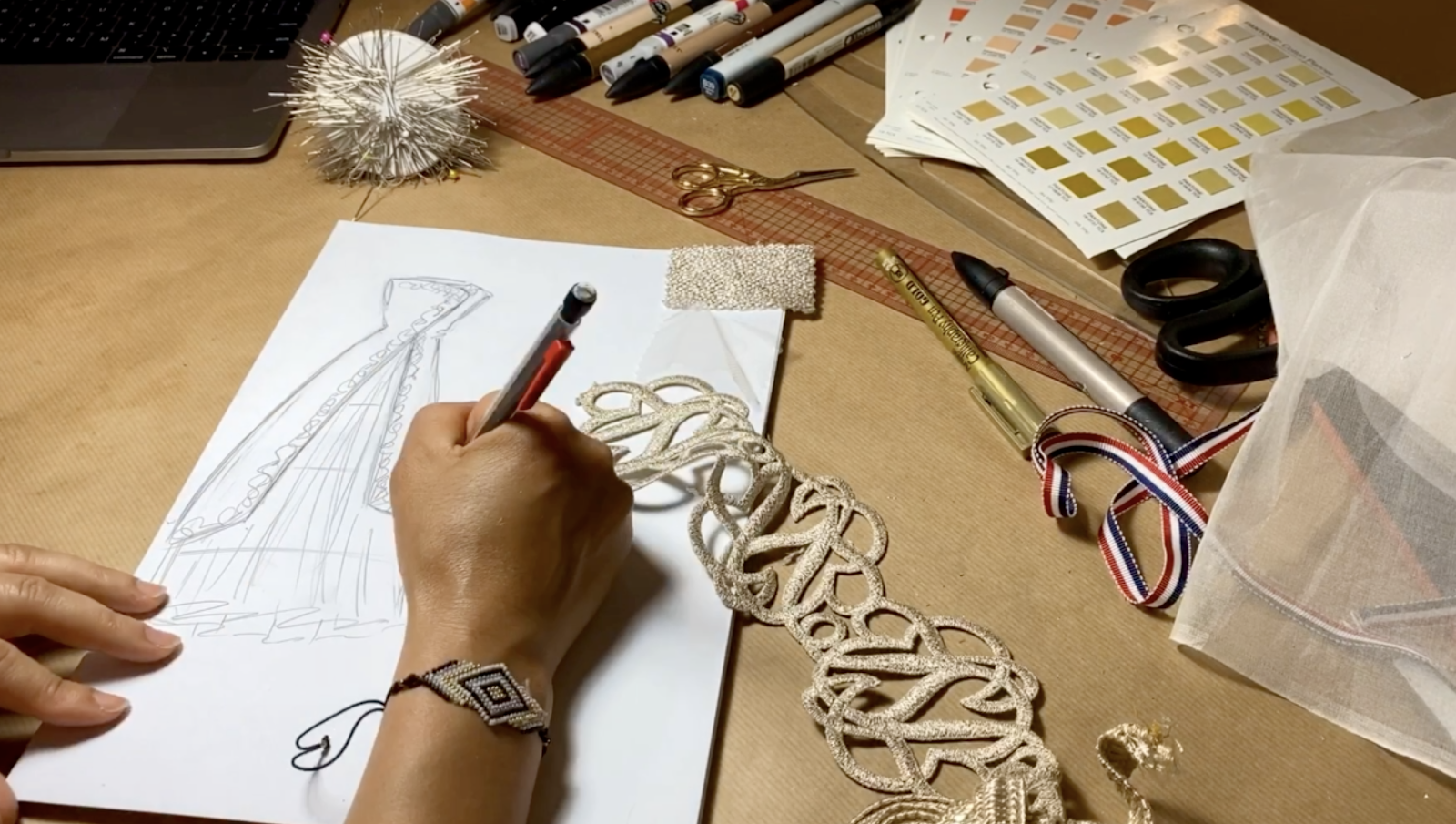 Do you wish to feel beautiful in a dress that only you can have and wear ? And perfectly adapted to your body shape ? Why not choose a fashion designer who through her passion and values, will offer you an original and exceptional design adapted to your body shape to perfectly highlight your personality?
Book an appointment now   Begin you bespoke 
At the maison Ach Chajai Paris, we change the world, by starting to change our wardrobe, we are convinced that the protection of mother nature and the well-being of all mankind and all the  creatures on our planet are not in contradiction with our needs.
By addressing you to the maison Ach Chajai Paris for your ideal bespoke dress made in Paris, you will have the guaranty to slip into an original, glamorous, stylish and timeless outfits whose manufacture enters in a respectful step of the human rights and the environment, because at Ach Chajai Paris our DNA, it is to be different.
Choosing to have your outfit created by a designer specialized in bespoke dresses in Paris is the certainty of owning a unique garment, made according to the rules of the art, with an artisanal know-how and a passion for clothing. Each of the designs that come out of our custom-made dresses workshop in Paris requires several hours of work in order to satisfy your expectations and meet your desires.
With her knowledge and perfect mastery of cuts, volumes and fabrics, our artistic director Najette, accompanies you in the making of a bespoke evening dress or business dress 100 % made in Paris, it will be a reflection of your personality, whose goal will be to create timeless designs to last because, with Ach Chajai Paris the style prevails over the trend.
During your fitting sessions, essential to make the necessary alterations so that your cocktail dress or your backless dress are perfectly adapted to your size and your body shape, you will have the leisure to make us know your desires and your tastes to make evolve your collection of perfect dresses little by little.
How does Ach Chajai Paris make the creation of bespoke dresses in Paris enter another more eco-friendly universe?
To call upon our maison haute-couture in Paris for your made-to-measure dresses, it is the guaranty of wearing dresses which answer only to your style and identity to release you from the dictates of the fast fashion which make you only push to the overconsumption for a uniform clothing appearance in perpetual change.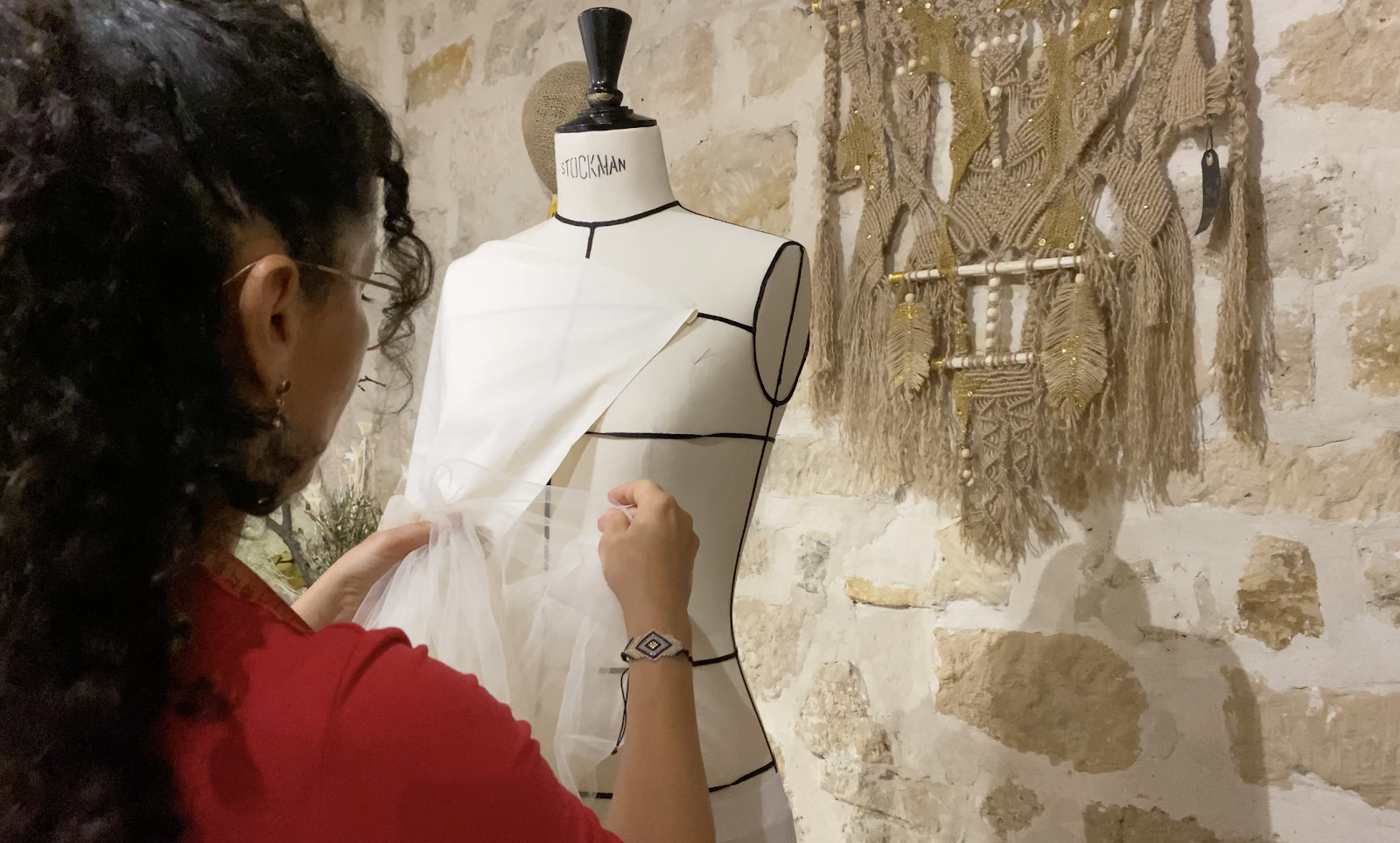 Our vision and values are those of a more eco-friendly approach for our wardrobe. Wouldn't it be better to wear the ideal dress, a tailor-made one that reflects your own personality, your desires, and that corresponds more to a style than to a trend, that you will enjoy wearing for many years rather than dresses without personality, worn by everyone?
This vision of fashion allows you, a better consumption fashion and to make a real responsible action for the defense of the environment, the respect of the working conditions of the man and a more moral and eco-responsible ethics towards the clothing fashion. In addition, by using noble materials already produced by major fashion houses, both elegant and resistant, your dress will accompany you longer and remain timeless. In the case of a need for alterations or to change or evolve a part, add an accessory or to modify certain lines of your dresses, our creator of custom dresses in Paris will make all the necessary changes to make the pleasure last even longer.
Our will is to direct the clothes making towards a superior dimension thanks to eco-innovative fabrics and eco-technological processes, such as Laser cut or the 3D... and thus to offer Art-to- Wear 3.0.
Why choosing your bespoke wedding dress in Paris?
You have said yes to your loved one and the time has come to choose your dream dress, that you will wear for the big day. You want your wedding to be unique? We propose you as well an unique wedding dress, with the experience of our bespoke atelier for an unique dress and with an exclusive sketch designed and signed by our artistic director Najette. 
For this very special day, you want to wear a unique and spectacular wedding dress that will make you the queen of the evening. So, why not entrust its manufacture to our wedding dresses designer in Paris, who will know for sure how to sublimate you by mixing fabrics, noble textures and accessories such as, trimmings or hand embroidery, lace from Calais, silk satin as many choices with which you can play to bring character and elegance to your custom wedding dress made in Paris.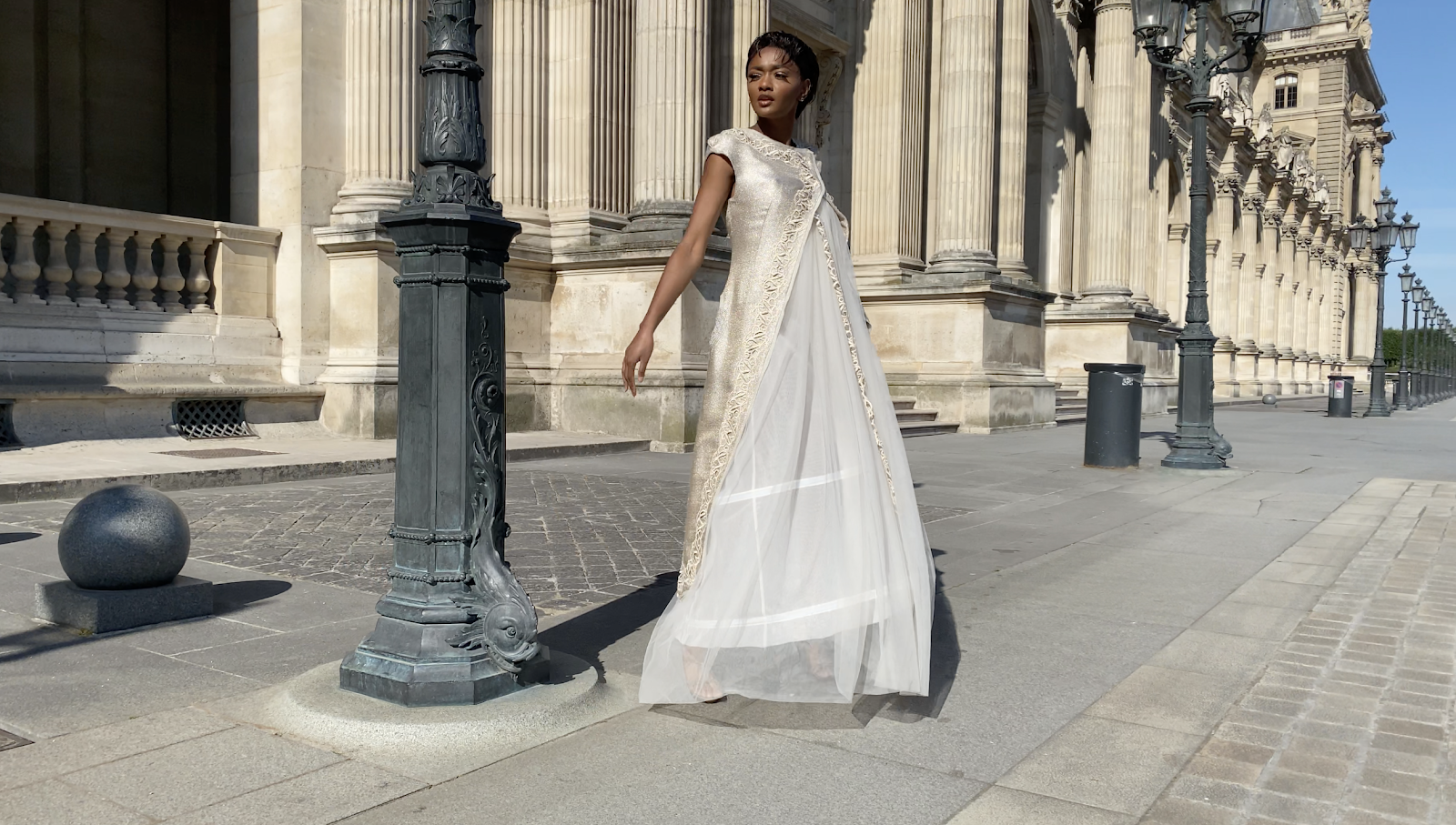 The designer of dresses allow infinite creativity to make and wear a unique dress, with a bustier highlighting your neckline in a subtle and elegant way or thin straps that bring lightness to the whole, thus affirming your glamorous style. 
Our goal, it is always to offer you garments to wear that are both stylish and eco-friendly made, we work only with craftsmen of extraordinary skills, who claim the use of noble fabrics to make your bespoke wedding dress made in Paris, a unique outfit that will perfectly fit your body shape and give you a breathtaking look. 
Najette our creative director pushes the envelope by designing bespoke wedding dresses but not only, they are also reusable in evening dresses or business dresses or as well as a jacket…
At Ach Chajai Paris the long term perspective never leaves our objective for sustainable luxury. 
The bespoke, it is about five steps:
Drawing: Define your desires and concretize them in drawing 
The choice of fabrics and accessories
The pattern 
The fabric 
And the fittings 
BOOK AN APPOINTMENT NOW   BEGIN YOU BESPOKE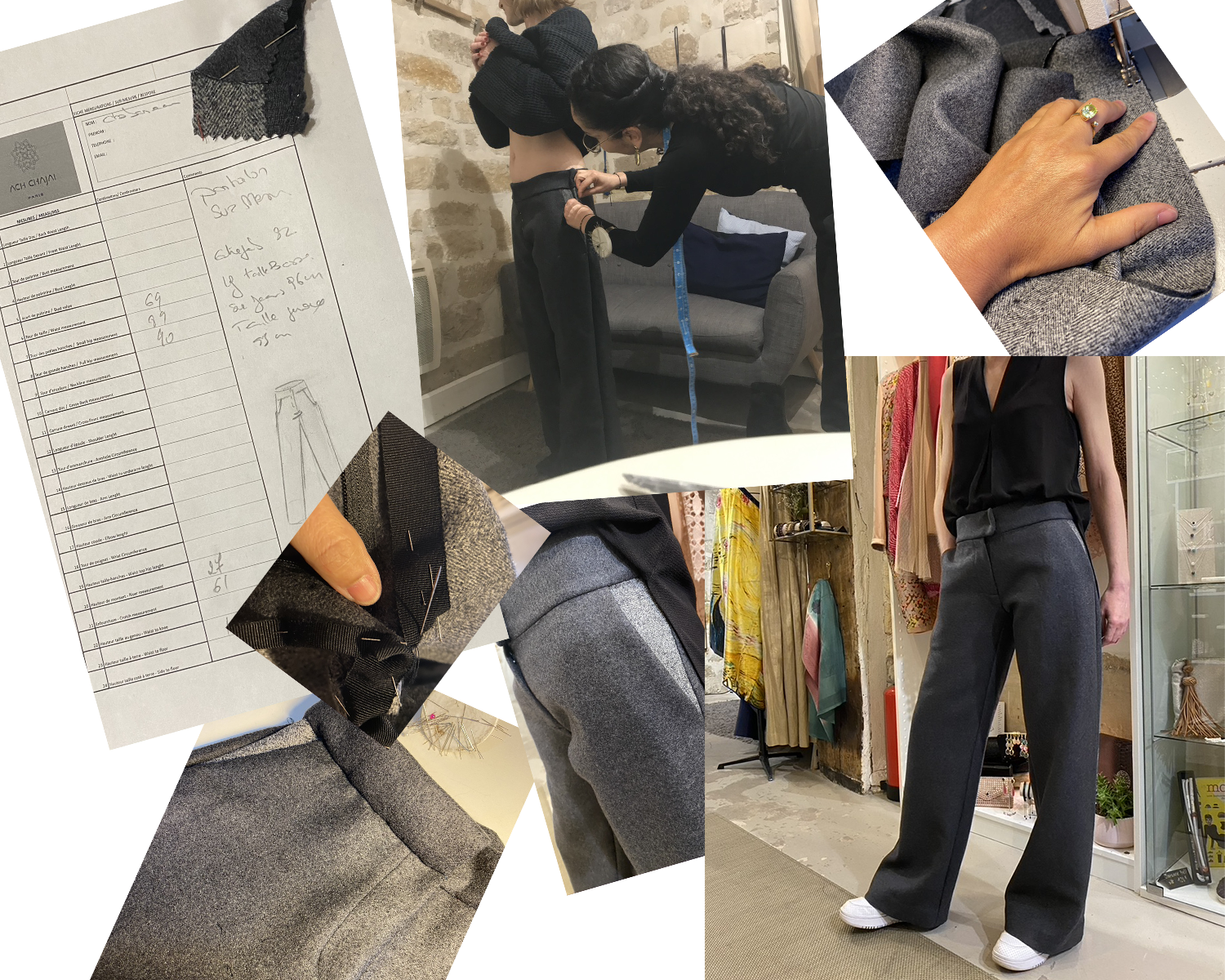 For our creative director, the human being is at the heart of her work and the preservation of know-how is her fight. She will accompany you step by step until the finalization of your bespoke dress in Paris. She has heart to sublimate you and time has no limit to achieve this goal. She will listen to you and advise you, in order to perfect the cut, the volume and the perfect fall of your perfect dress which you have always dreamed of, she is the woman and the designer you need.
What styles of dresses can I entrust to the designer of Ach Chajai Paris?
Our creative director has no limit of creativity in the realization of your wardrobes, we are able to meet all your requests. An evening  dress made to measure in Paris with a naked back which will charm your guests, a ravishing cocktail dress with the plunging neckline emphasizing your chest, a wedding dress fitted perfectly to your silhouette, or an original business dress an perfectly sized.
You can just entrust us your wishes and your dreams, in order to help our head designer to propose you the perfects outfits made with exceptional fabrics for a resolutely timeless, original and explosive style.
For the manufacturing of our collection of timeless dresses, we make a point of honor to choose with extreme care our  fabrics, their origin, the quality of the fibers, their method of production, the conditions of shipment by buying locally contributing also to reduce the carbon impact.
Each of the pieces we will design for you, will not represent only a garment but, it will be the fruit of several craftsmen, to emphasize your curves and your silhouette, the guarantee of a work of small expert and creative hands in our workshop bespoking dresses in Paris. 
You are going to cherish each of your bespoke dresses as a work of art, yours ! 
Your masterpiece, of an inspired and inspiring design !
Trust Ach Chajai Paris, and you'll be sure to own an unique, timeless and perfect dress that is created and made with kindness and a deep respect for the world around us.
Let's go ! Let's design your dream bespoke wardrobe together:
BOOK AN APPOINTMENT NOW   BEGIN YOU BESPOKE